The river is mostly controlled by the Criccieth,Llanystumdwy and District Angling Association. You can fish one of the best sea trout rivers in Wales by purchasing your day, week or season ticket from the shop.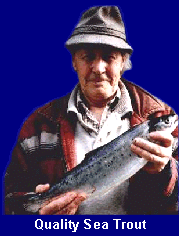 The River Dwyfor has sea trout ranging in weight from ¾ of a lb up to double figures. The main Salmon runs start in late summer around September with the odd grilse caught before. To date the largest salmon weighed in at 33 lb.
The average yearly catch varies but is usually around 2000 – 3000 sea trout and 30 to 40 salmon.
The sea trout are mainly caught on the fly at night using traditional sea trout flies and some local patterns, these secret patterns can be revealed at the shop. Floating and intermediate lines are generally used. In recent times large surface lures have become very popular and take some big fish.
Worms are effective day and night especially if water levels are high enough. Fishing when the river is in flood can be fantastic sport with the worm even when the level is very high and the water a thick chocolate color. In these conditions a worm trotted along the banks can produce some big fish. When the water starts to clear the spinner come into its own, Mepps, tobys and rapalas are the most popular lures.


Adult
24 hour = £16.50
72 hour = £33
Week = £55
Season = £110
Senior Citizens
Senior Citizen season = £49.50
Junior and Student season tickets available at very low prices. Please ask at shop.

Remember - Permits are only available from the shop!
Finally.
Don't forget as well as day, week or season permits you also need a River Authority Rod License for Salmon and Sea Trout. These can be bought as day, week or season licenses available for purchase online by following this link. Link Purchase License Online